Atheism is not a religion
Atheism is a Religion like Silence is a Music Genre
As more and more people self-identify as atheist, the more push-back there is from people who aren't.

And one of the bedrock beliefs that non-atheists stubbornly cling to is the notion that people "must" believe in something. And so, to square that idea with the existence of atheism, the default assumption is that atheism is just like another form of religion.

This idea makes atheism easier to accept as an option - just another item on the list of religions to choose from.

It's also wrong.

Atheism is NOT a religion. Atheism is the absence of religion.

This is more than just semantics though. By taking the idea of atheism off the "list" it forces us to recognize atheism for what it is - a completely different world view that does not even include religion.

And with that, all of the mental and social baggage that goes with it.

It's like a golden oasis of silence in the cacophony from religious institutions, rules and rites, preachers and regulators.

The peace that comes from freedom of thought.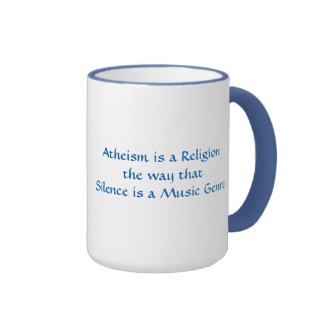 Let your mug explain how atheism is not a religion
by
SmartRandomActs
Find more Atheism Mugs at
Zazzle
Have comments? Add them below!
Have your own story to add? Join in and write your own page! Simply click here to return to Thought Provoking Quotes.
You may also be interested in...
You may also be interested in these additional items available from our affiliate partner program, and recommended for out site visitors....  
Just click on any product that interests you and you'll be taken to that merchant.  These additional items are made available at no extra cost to you, and may pay a small referral commission to this site, to help offset site costs.
Hope you find this useful! 
---
Comments are moderated - by a human who also lives offline.  
Please allow up to 48 hours before comments are displayed.
comments powered by
Affiliate Merchant Program
If I find good products that I think offer value and would be of interest to my site visitors, I occasionally will provide my visitors with an affiliate link.  Some (but not all) of the links on this site are to affiliate referrals. At no cost to you, an affiliate may pay me a small referral fee, which goes towards the cost and maintenance of this site.  
Note that some affiliate links (and advertising) is auto-generated by the supplier, based on site content and visitor preferences.

If you have any questions about this, please contact me.
Search this web:
Custom Search